If you are a WordPress user and your site is primarily to make money, Thrive Themes will diversify the way you manage completely. This Thrive Themes review is following my post Thrive Headline Oprimizer Review ("You Only Have 2.6 Seconds!") the other day. So what else do these "Thrive" people offer?
Apart from the Headline Optimizer, The Thrive's other products are;
Thrive Themes – WordPress premium themes
Thrive Content Builder & Landing Pages – drag & drop WordPress page builder
Thrive Leads – Mailing list builder
I'll have a look at each one and see if they're worth paying for…ultimately in order to monetise your site!
*** January 2017 update: the pricing structure has changed slightly and I have updated this page accordingly.
---
1. Thrive Themes
The Principles
Thrive says that the foundation of their themes is function, not design. They prioritize the aim to get your site more traffic, more social shares, more sales and email subscribers.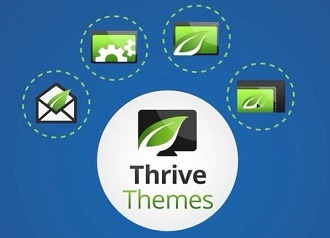 What they actually do is to integrate key features into the theme itself. These built-in features that we would normally have to have by installing separate plugins such as;
Social sharing feature
Image compression, optimized image galleries
Over 600 fonts to choose from
Related posts feature
Multiple header layouts
SEO ready
Opt-in form ("Subscribe Now") to connect to your autoresponder
Things like social sharing tool and opt-in form are essential items for marketing, also it's crucial to speed-optimize a site, while we all know that too many plugins slow a site down. So having these already built in the theme is a bonus. Especially there's no decent free image compression plugins around (not that I know of!)
Designs
Although Thrive says its focus is functionality, all the 10 themes have stunning design and each one of them has a distinctive, different style to others. They're all;
Buit for speed
Mobile responsive – any device and screen size
Multiple color options
Automatic page generator – get your sites set up in seconds
Short code elements built-in
Let's have a quick look.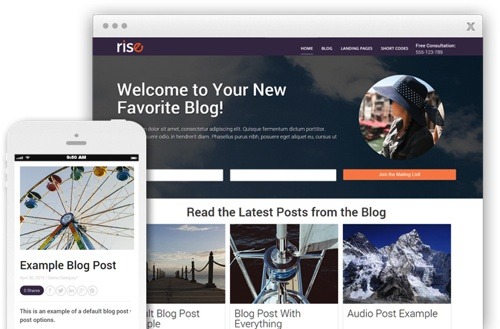 Rise: Suitable for affiliate marketing or selling your own products (created in collaboration with a successful affiliate marketer).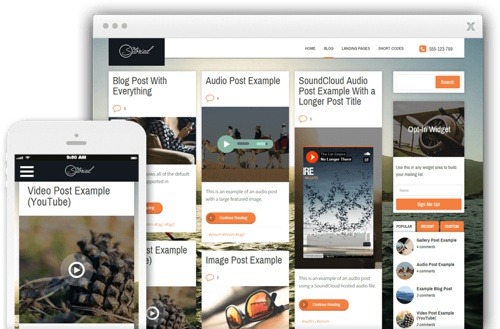 Storied: Specialized for blogging. With beautifully formatted multi-media post styles.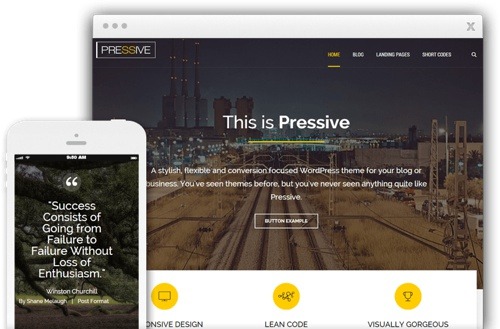 Pressive: Suitable for fully featured marketing website, collection of sales pages.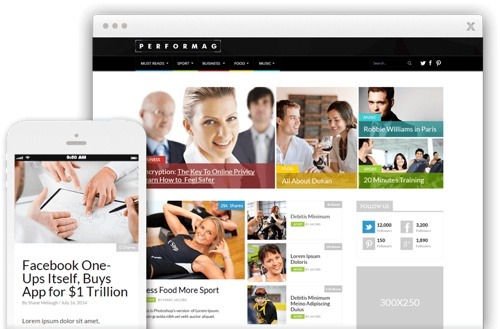 Performag: For magazine and news websites. "Light" or "Dark" plus fully customizable color options.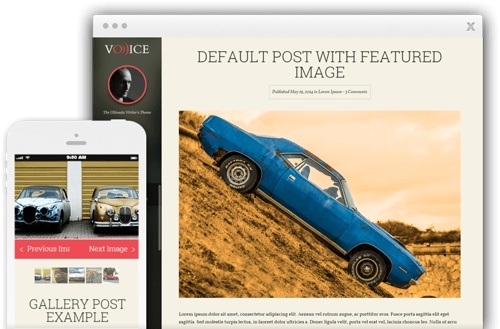 Voice: Ideal for personal branding, header-less and unique typography to stand out. Image focused, custom menu colors, background colors and image.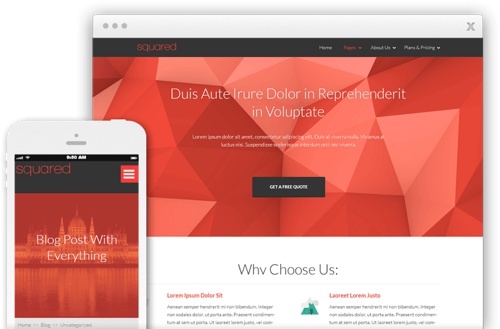 Squared: All-rounder with its striking look for blogs, sales pages and marketing sites.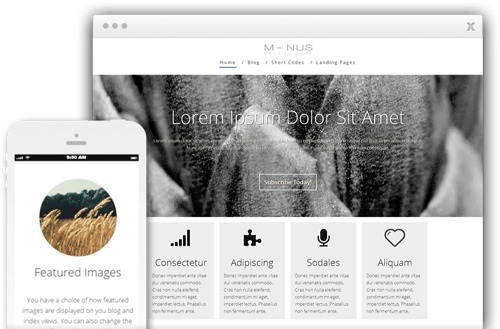 Minus: Minimalist design, white space and very little else. For professional sites. Custom color, background and image options.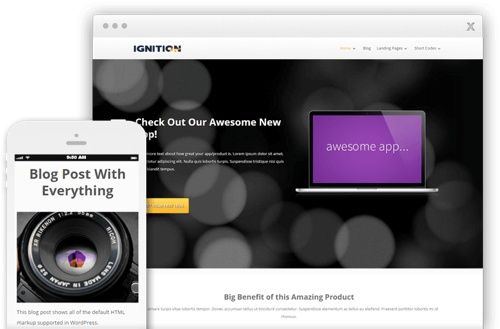 Ignition: Suitable for marketing website, with attention grabbing ribbon.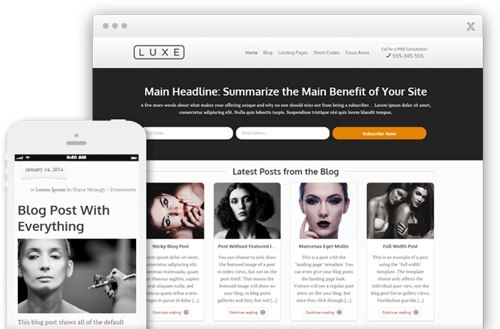 Luxe: Minimalistic but fully customizable with conversion-focused features.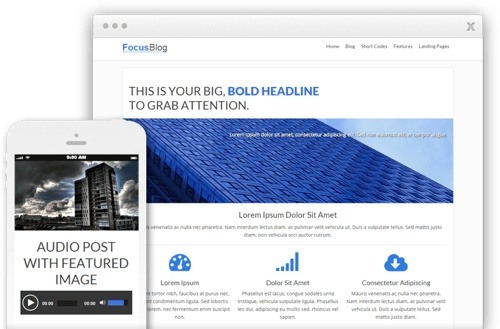 FocusBlog: For conversion-focused blogs or business websites.
Short Code?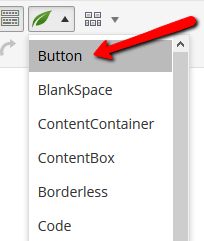 This is the Short Code function that's been integrated to WordPress, buttons for example. You can add call-to-action buttons easily that's essential for sales & affiliate marketing websites.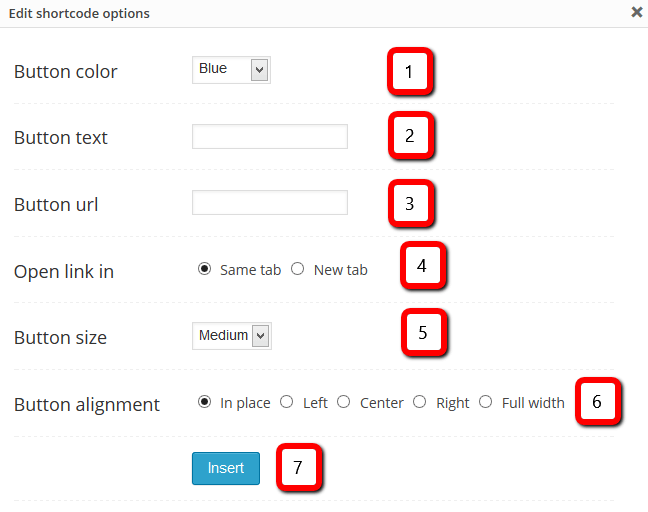 Set the (1) color (2) text (3) URL (4) link type (5) size (6) alignment and (7) click to insert the button, easy! I think it's great instead of having to install a separate plugin.
How Much Does A Thrive Theme Cost?
* 2021 Update: Thrive Theme Builder, a flexible WordPress theme builder plus 9 plugins are now available as part of Thrive Suite, an annual membership for the price of $228. See the detail at the bottom of this page.
My Thoughts
Premium WordPress themes with these added features could normally cost you hundreds of dollars. I think the prices Thrive Themes offers are extremely handy and reasonable.
[thrive_link color='green' link='https://cybercashworldwide.com/thrivethemes' target='_self' size='medium' align='aligncenter']Try Thrive Themes Now[/thrive_link]
---
2. Content Builder (+ Landing Pages + Lightbox)
*** June 2016 update: Now I've reviewed the Content Builder in depths. Take a look at the page What Is Thrive Content Builder?
What Is It?
Thrive Content Builder is a WordPress plugin, allows you to edit the page content in exact WYSIWYG format. Most website builders claim WYSIWYG while they're not – there's a toolbar with labels and buttons. You edit your page, press "Preview" to see the actual page, and switch it back to the edit view…that's not exactly WYSIWG.
But Thrive Content Builder is, and that's what I like about. If you want to edit something, you just click on it.
What's In The Package?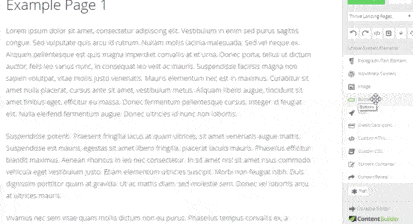 There are lots, it's quite impressive actually…I'm just going to list them up, and all these are in one plugin.
Countdown timer
Customizable, responsive pricing tables
Call-to-action button design – more flexible and in variety than a Thrive Theme has.
Beautiful content boxes that you can add in the post (like the image below)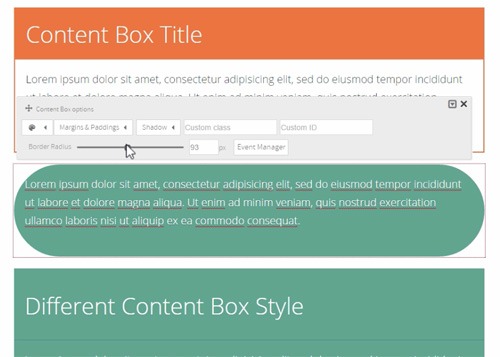 Also time-delay control for Call-to-action button to appear
Responsive, retina-ready font icons, social icons that are fully customizable
Instant "Click To Tweet" box
Add Testimonial boxes in seconds (like the one below)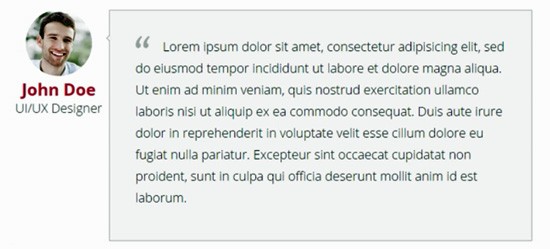 Create "Table of Contents" box for long posts with just a few clicks
Create a gallery grid (e.g. of the latest blog posts to your homepage)
Star ratings for reviews
Styled, colored bullet point lists
Create animation to attract attention
Plus…..
Thrive Light Box and
Thrive Landing Page Builder
All these in one single plugin I think is quite extraordinary, don't you? Let's have a quick look at each of the last two features, "Light Box" and the "Landing Page Builder".
Thrive Light Box
Thrive Light Box is a lightbox builder, most typically to create an email subscription form. It is part of the Content Builder, allowing you to place anywhere in the content, supports multiple fields, check boxes and drop-down menus.
This 2-step opt-in form can be created instantly using the ready made opt-in box (but still fully customizable), or can be built from scratch in any page. Great feature to build your mailing list.
Video lightbox is another one – by implementing YouTube or Vimeo as in a lightbox, you'll make your page much more impressive with tutorial / introduction video clip.
Landing Page Builder
Thrive Landing Page Builder has over mighty 120 landing page templates available. Here again, it's (a) speed-conscious and (b) fully customizable.

Being a part of the Content Builder plugin, absolutely everything is editable. Change, remove or add any text, images, colors, buttons, headlines, bulletpoints, color of links, use your own images, choose your own fonts, change the size of the content area and so on. Frankly everything that's listed in the Content Builder section above can be used.

Watch Out – It Won't Work On Your Existing Posts!
Thrive says the Content Builder cannot be used to edit your pre-existing posts. This is necessary in order to ensure compatibility and avoid conflicts.
This is perfectly understandable to me, as the primary purpose of Thrive's products is conversions and speed. Its unique coding structure cannot edit or overwrite different scripts.
The good news is that it doesn't mean you'd have to have a brand new website! You can create and edit any news posts/pages on your existing site.
How Much Does Thrive Content Builder Cost?
As mentioned earlier, All the Thrive's plugins plus Theme Builder are available to get as part of the annual membership.
Support?
The prices include the first full year of 1-on-1 support. Thrive will provide you an extensive knowledge base and library of tutorials. I have made several queries by email for the past few weeks and always get a response within a few hours.
My Thoughts
I think Thrive's Content Builder plugin package is a bargain. All the essential and exciting elements for marketing such as countdown timer, rating stars, testimonial boxes, price comparison tables…. You would have to install at least 10 plugins on WordPress, and a lot of them are only available as paid-plugins.
With the glass-cut clear, slick design and its fast performance, I think it is worth the money. I would suggest that you buy a single-user plugin for $67, and upgrade it to 5 or 15 licence pack if you own multiple sites.
[thrive_link color='green' link='https://cybercashworldwide.com/thrivethemes' target='_self' size='medium' align='aligncenter']Try Thrive Themes Now[/thrive_link]
---
3. Thrive Leads
The last of my Thrive Themes review is a list building plugin, Thrive Leads. 2-step opt-in form can be created within the Content Builder / Thrive Lightbox, why would you need a separate plugin to build a mailing list?
The reasons are (a) Thrive Leads has many more dynamic, flexible options and also (b) it is available for those who don't want the Content Builder installed, but seek for a dedicated, multifunctional list builder plugin within WordPress.
I can see that the Thrive Leads' in-depth features, its eye-catching forms can boost the conversion rate and give your business a better chance of success. So let's have a look at the design option first.
Types Of Opt-In Form
There are several types of opt-in form to choose from, the left one below is In-line form (within anywhere of your post), the right one below is Slide-in form that slides into view from the corner.

From left to right – Popup Lightbox, Opt-in Widget to add to your sidebar or any other widget area, and Sticky Ribbon which shows at the top of the screen and remains "sticky" as your visitor scrolls down the page.

The Speciality
One single important element of an email list builder is conversion. It has to grab the visitors' attention, and to be able to do that, the design has to be cutting-edge slick, it has to be quick and flexible. Thrive Leads clears all. The design can be easily customized (or created from blank) with a drag & drop editor.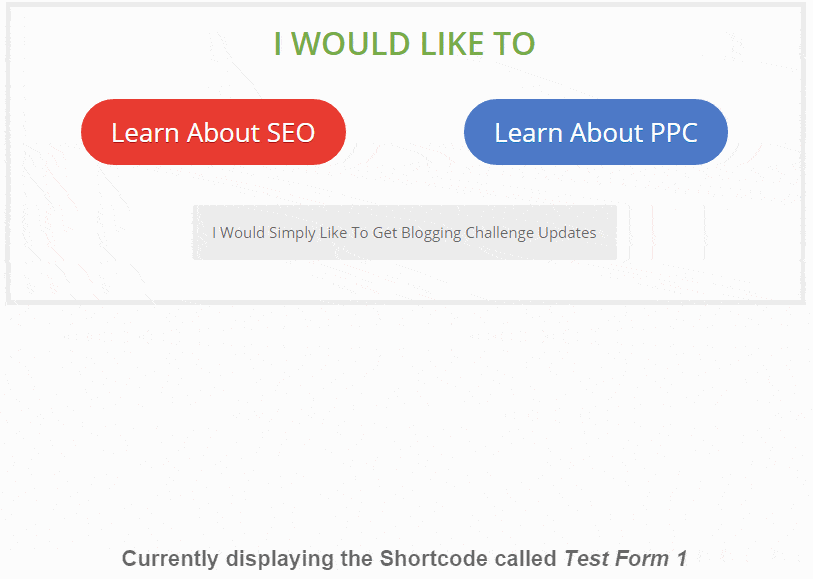 Trigger Settings & Frequency Settings
Many trigger options such as;
Show the form on page load
After a certain period of time
When the user scrolls to a specific part
When the user scrolls to a % of the way down the page
When the user is about to exit the page
Show when the user clicks an element.
The frequency setting is easy, for example if you set it to 7 days, the form will only appear to the same visitor once a week even if they visit every day.
A/B Testing
It has a full A/B Test feature and its smart analytics interface is easy to navigate. There are four A/B test variations;
Create 2 test variations by changing the headline, add a new image or change colors.
Test the trigger timing – should the form pop up after 10 seconds, or once the user scrolls 50% down the page, or once the user is about to exit your site?
Test different types of forms, e.g. slide-in form or lightbox.
Test entirely different offers such as video course or ebook.

With "Automatic Winner Setting", you'll be able to let it choose the winner of the two (or out of multiple number of forms) automatically. By setting (a) the number of minimum conversions, (b) minimum duration (days) and (c) chance to beat by %.
When the time comes, it will automatically choose the winner form and the other form(s) will be automatically added to the archive. This feature is not available with other list builders such as SumoMe, OptIn Monster, Popup Domination or Optin Skin.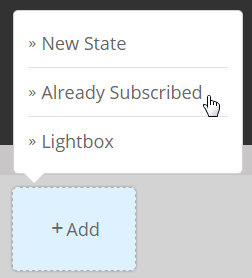 Of course you can also set the test to manual and, as you monitor the conversion rates, you can click to choose the winner form.
Already Subscribed State
This is a feature that if a user is already your subscriber, the opt-in form can be either hidden completely, or something else can be shown instead of the form.
Again the design is completely customizable, and whether you want to show something else or hide the form is entirely up to you. It's a pretty cool new feature.
Integrate With Your Autoresponder
The following email marketing services can be directly connected using API keys. Alternatively, you can link with any other system that creates an HTML signup form.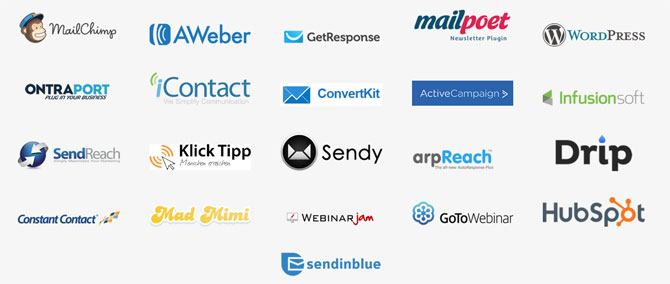 What's powerful is that it allows you to use different services for different forms, if you ever use more than one email autoresponder service, multi-integration is possible.
Other Features
Many other features including Mini-Quiz Forms, Multiple Choice Forms, forms with animations none of which is available with other list builders either.
Ease Of Use and Training
The plugin does not require technical skills or design skills. Again Thrive says it may take 20-40 minutes to learn how to use all the functionality. And there are tutorial videos throughout the display.
Thrive has an extensive knowledgebase and forums for its members permanently, and also offers training webinars.
Price Plan
Again, Thrive Leads is now available as part of the annual membership as of February 1st, 2021. See the detail at the bottom of this page.
And if you're not happy with Thrive Leads – you can get a full refund anytime within 30 days of your purchase.
My Thoughts
Thrive Leads is certainly dynamic with countless possibilities. If you have a complex sales system (such as seeking for different types of subscribers within a website) then it is definitely money's worth. Otherwise Thrive Content Builder covers a list building.
---
All-In-One Membership Offer (Thrive Suite)
Now if you become a Thrive Themes annual subscriber, you'll receive the lot plus something extra. For individuals and entrepreneurs, the membership fee will be;
$320 per year if you pay quarterly ($90 per quarter / $30 per month)
$228 per year if you pay annually ($19 per month…save 24%)
Your membership fee will include
Complete Thrive Tool Suite – download every current Thrive plugin, theme, update and feature.
Download every future Thrive plugin, theme, update and feature.
Full access to Thrive's support team.
Is All-In-One Membership Worth It?
With the membership of $228, you'll have;
10 (currently) x themes

– worth whopping $670

Content Builder Set

– worth $147 for 15 licences

Thrive Headline Optimizer 

– worth $147 for 15 licences

, and also
"Thrive Clever Widgets" which allows you to have different widgets according to the page content. This little handy plugin is for sale at

$39 for single site, $47 for 5 licence pack or $97 for 15 licence pack

.
Plus… (2017 update!):
"Thrive Ovation" – multiple testimonial creator plugin, 

$39 for single site, $47 for 5 licence pack or $97 for 15 licence pack

.
"Thrive Ultimatum" – countdown timer plugin, 

$97 for single site, $147 for 5 licence pack or $399 for 15 licence pack

.
Paying $228 at a time seems a lot, but it's a huge money-saver package – compared to purchasing 15 licences individually, $1,329 saving.
One thing please note…
I've told you that with Content Builder and Thrive Leads you can upgrade from a single site licence to unlimited site at a later date by paying the difference between the two. But this does not apply with All-In-One membership. Meaning you'll have to pay $228 for the All-In-One even if you've already purchased some of the products.
Do Thrive Themes Products Help You Make More Money?
Remember, the Thrive is all about conversion factors. All about how they can help you build your customer base efficiently & quickly, and they take the website loading speed very seriously. I believe all of three products, Thrive Themes, Content Builder + Landing Page, and Thrive Leads will help increasing the number of your customers.
[thrive_link color='green' link='https://cybercashworldwide.com/thrivethemes' target='_self' size='medium' align='aligncenter']Try Thrive Themes Now[/thrive_link]
For $299/year or $99/quarter
Recommended Alternative: Thrive Architect Plugin Only - $97 per year