Finding passive income sources is the first key to the successful online business. To actually earn passive income online is the next one. Here is a guide I hope that will help you build your income stream online.
What Is A Passive Income?
A passive income is where an income is received with little effort to act on. Property income, bank interest income, dividend income, royalties, pensions, and any business without direct involvement with suppliers or customers.
A successful online business is to create a series of passive income. Affiliate program is one. It is where you work as an intermediary to make a sale for a product or service between a supplier and a customer to earn a commission. But instead of securing one sale to receive a payment, there are ways to receive recurring income – you get paid again and again.
Here are a few tips to find passive income business opportunities;
Passive Income Business Opportunities
ClickBank
ClickBank is a great place to earn recurring income either by
Selling your own digital products as a vendor, or

Promoting products that are already available, as an affiliate.
You can either be a vendor or affiliate, or you can be both using one account. There will be $49.95 one-time charge if you become a vendor upon approval of your first product, however becoming an affiliate is free and easy.
When you have registered, you'll see thousands of products for sale in the "Marketplace" page. Each product has its stats listed like this;

Tip 1: Take a look at where it says "Grav 70.22" above; short for Gravity™ performance, this number is calculated by ClickBank taking into account the number of affiliates who earned a commission from this product over the past 12 weeks. Higher the better, preferably higher than 100. Although high gravity can also mean there's a lot of competition in promoting this product.
Tip 2: Now let's see the example sales stats quickly;
Initial $/sale: $33.16 | Avg %/sale: 75.0% | Avg Rebill Total: $45.99 | Avg %/rebill 58.0%
Initial sale of $33.16 is what you as an affiliate will receive for each sale of this product. If 10 people buy it, you'll receive $331.60, if 100 people buy it, you'll receive $3,316.00. This is awesome, isn't it?
Average rebill total is only shown if the vendor offers recurring billing products, e.g. memberships and subscriptions that customers regularly buy over time. % shows the average commission rate earned for all sales of a vendor's products, including one-time purchases and rebills.  So look for bigger sale items to receive bigger passive income online, obviously!
Tip 3: This is actually the most important part. Unfortunately there are some scam vendors too. You want to make sure the promoting is feasible – when you look at the product in the vendor's sales page, would you trust it? Would you buy it for yourself? If so why? Also it's essential to make sure there's enough affiliate marketing tools for you to utilize.
Start to affiliate with ClickBank – click here.
Email Marketing
Email marketing is one of the most stable and long-term revenue generating technique on the Internet. Email is an easy way to reach mobile customers and it's an effective way to keep them informed. Email coupons drive online sales. It is inexpensive to set up and easy to customise, it is an essential way to win passive income online.
GetResponse
GetResponse is a feature-rich email marketing solution, capable of handling both small and very large lists (1 million+ subscribers for enterprises). It allows you to create newsletter, autoresponders that convert contacts into customers, as well as video marketing campaigns.
Free trial for 30 days, start from $15 per month. It provides easy-to-use, self-service applications and 24/7 live expert support.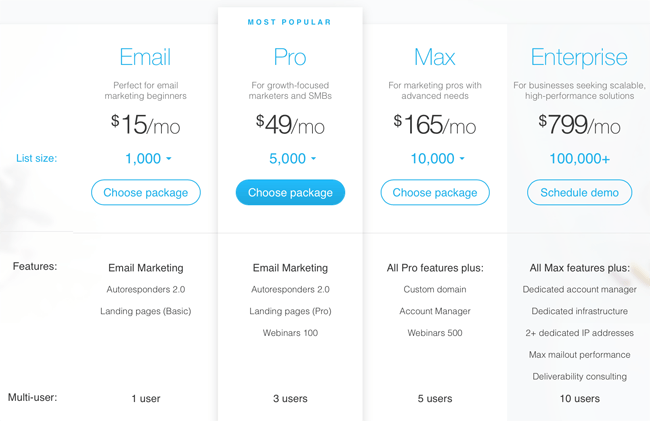 GetResponse also has its List Building Program; it's a comprehensive email marketing course to grow your list. It provides with the know-how and necessary tools to launch a comprehensive and effective email marketing campaign.
There are two program schedules to choose from; the 90-day fast track where you can build up to 10,000 subscribers and the 180-day standard program. Each session consists of a video tutorial, presentation, and an article. Those who complete the program and acquire at least 1,000 new subscribers will receive a GetResponse University Certificate of Performance.
As well as email marketing, GetResponse provides you with split-testing, professional landing pages, squeeze pages. If you target your web traffic correctly, you could make a full-time income on GetResponse alone.
Try GetResponse for free
Earn Passive Income Online – Getting Started
Wealthy Affiliate
Wealthy Affiliate is recommended by many in order to get online marketing started. Its training courses give you everything you need to know about how to earn passive income online. Thousands of experts are online realtime, exchanging tips, latest trends, do's and don't's, as well as technology updates.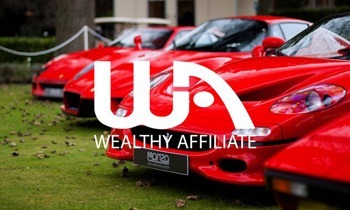 You can sign up and get the feel of it without spending a single cent, and it is possible for you to earn money even as a free member. However most members go for premium, because the commission for upgraded members is approximately double of free members!
Wealthy Affiliate is certainly my recommendation – free training and live support for experts who are all willing to help you to succeed.
Within such a big, diverse community, not only can you receive advices, you can also share what you know. I hope you agree that you need to be motivated to earn passive income online, and an element of motivation should come from giving as well as taking!
Special Bonus To Claim
There is absolutely nothing to lose when you join Wealthy Affiliate (no credit card required), but if you join Premium within the first 7 days, you are going to get a 59% discount on your fist month (only $19). No contracts. You can leave the membership any time you wish.
If you have any questions going forward, please don't hesitate to contact me or leave your comments in the box below – it will be great to have you as part of the community at WA!