Wishpond Review – Lead Generation Tools
In this Wishpond review, I will look at the marketing automation platform (MAP) including landing page, web form and popup with many functions and templates. All of which are essential as sales leads for any internet marketers. Does Wishpond satisfy their needs?
Wishpond Review – Overview
Wishpond was established in 2009, based in Vancouver, CA, and it has over 5,000 users. The clean & friendly homepage draws your attention by what Wishpond does, with no gimmick, straight-to-the-point introduction.  What it offers is;
Landing Pages
Lead generation forms and popups
Email marketing automation
App integrations
The brief introduction video tells me that it's all drag & drop – we like that, don't we? Free membership is available up to maximum 200 leads (i.e. you can have up to 200 email subscribers). So this is great especially for beginners. Let's have a look one by one.
Wishpond Landing Page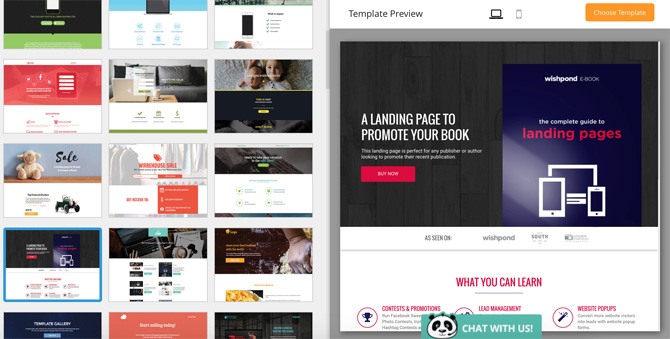 It has about 70 landing page templates with various designs according to your business needs. Each template has its own unique vector images which are useful, but they're not fully customisable – no other images are saved in the Library.

You can customise the base colour of the entire template later on such as buttons, background and texts…but not the colour of these images (obviously!?) so bear that in mind. Of course you can swap these images with your own graphic or photos.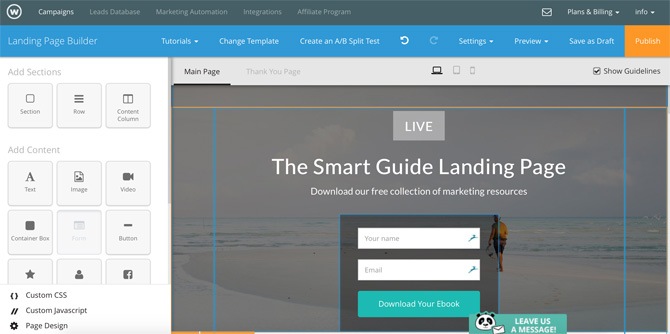 Some templates have a web form like the one above already, but inserting one or customising couldn't be easier. Drag & drop, and in addition to name and email address, you can add any other fields such as "your phone number" "your first name" "last name" and so on.
Social buttons and Facebook comment plugin which you can either link to this very landing page or another url.

There are over 250 icons – in any colour you want.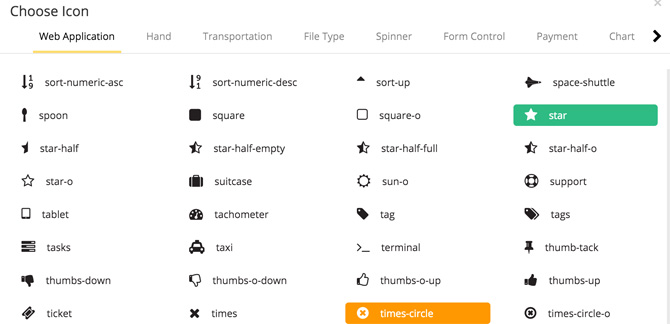 One of the most awesome features is a countdown timer. Again you can customise the number format, font, background shape and style.
There are a few functions that are only available on paid plans such as;
Custom CSS and javascript
A/B testing
Social promotions
API access
I found it easy enough to customise the template without looking at the instructions. If you get stuck, there are many quick video tutorials available. Each one lasts a few minutes, concise and clear. However I personally prefer written instructions, which may not always be available.
Once you've created the template, you can publish it either to Wishpond's own url or your own.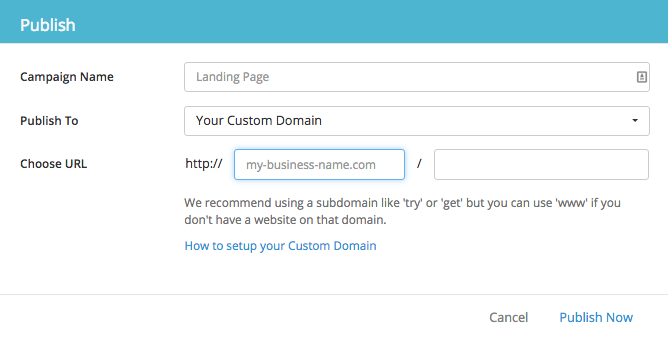 Form and Popup
Form function and Popup function are listed separately but the creation process is the same. "Form" is one that you embed anywhere within your website, and "Popup" is one that interrupts the page screen.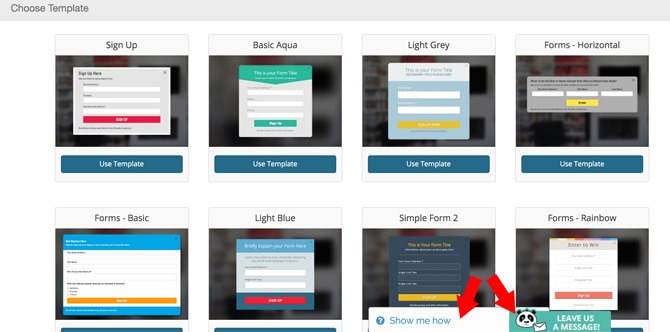 A dozen of template to choose from, and it couldn't be easier to create. As you can see above (where two red arrows are), There is an instruction slider as well as a box you can send a question to the support team.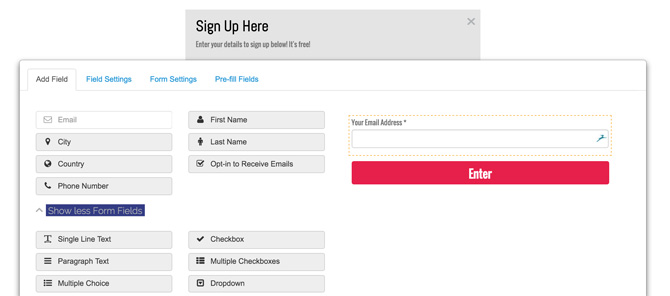 The form interface is fully customisable, and also the 'thank you' screen to follow immediately after the user information's been submitted.
When created, all you have to do is to copy the javascript code and paste it under the header section. I have tested both the form and the popup. The form has a responsive size option, allowing you to set the maximum width, meaning you can either embed it in a side bar for 100% width or within a main page for reasonable size, say 400px width.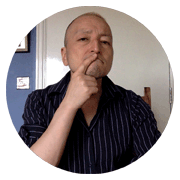 I have however encountered a critical problem with the popup function. Both my Google Chrome and Safari's popup-blocker prevented it from appearing on the screen. So I was never able to see the actual popup form.
When I reported this problem to the Wishpond Support, they simply advised me that "it may be the case". Popup blockers can prevent Wishpond form to pop up. I'd like to know if there is a way to get around this, but haven't received an answer. Well it's a bit…..disappointing. In fact useless. Never mind and I'll have a look at the automation system next.
Marketing Automation
So one of the essential modules is to send out an email notification or 'thank you' message to users automatically upon signing up. This can be done easily by setting up a condition and an action to follow. Or multiple conditions and multiple actions to set.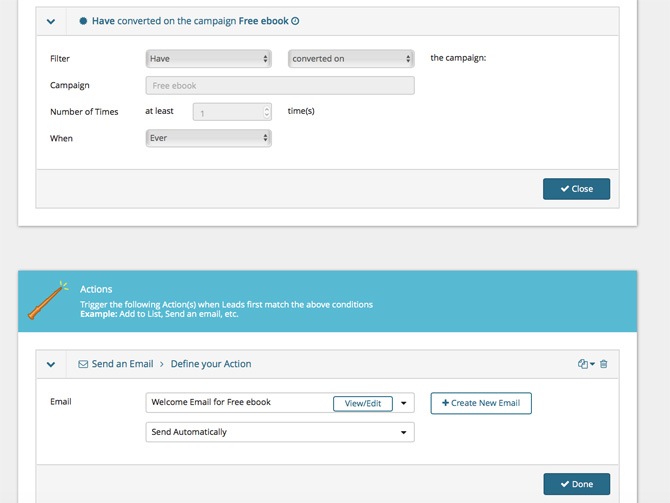 Setting up, editing and deleting the automation are very easy and once again I'm quite impressed. With a basic HTML email editor enables you to customise fonts, attach images, add tables, paste hyperlinks and so on.
Integrations With Other Apps
Apart from usual social media integrations, there are hundreds of other apps you can connect to.

If your favourite app is not listed, you can contact the support to request a new app integration. Connect to email marketing app to import/export leads, register people for your webinars after they sign up. Connect to your SurveyGizmo or SurveyMonkey account to import your Leads' survey results into Wishpond and so on.
Wishpond Academy
Wishpond Academy is a very useful platform. It's packed full of video courses, each lasting from 15 minutes – 1 hour,  as well as PDF course materials, covering everything you need to know about online marketing, social media interactions and technical case studies.
What's confusing is that Wishpond's user manuals belong here. And you need to sign up separately to access Wishpond Academy – you literally have to re-register with your email address and set a password. There is no apparent link from the main tool platform ("Wishpond Central"). I can't quite see the reason why, although of course it's free to sign up.
Paid Options – Price Plans
All above is accessible for FREE, but up to 200 leads and you can only have one user account. Paid plans are;
Basic Plan $69 per month – up to 1,000 leads, plus A/B testing, custom CSS, custom Javascript and social promotions, one user account
Pro Plan $119 per month – up ate 2,500 leads, plus API, up to 5 user accounts
Growth Plan $199 per month – up to 10,000 leads, plus phone support and unlimited user accounts
More than 10,000 leads available up to 1m leads, the price plan changes accordingly.
All the paid plans come with 14-day free trial, and also 35% discount if you pay annually (Basic $45 per month, Pro $78 per month, Growth $130 up to 10k leads)
Free Bonus!
As you create your leads, you will receive up to $100 credits – I have received it, but it may not be available when you try. But this will work out as a great bonus. Combined with 14-days free trial, it will work out as your first 2 months free with Basic Plan.
Or combining with annual payment discount, the Basic Plan will work out as $37 per month plus 14-day free trial. So give it a try now and see if you receive $100 credits (or more?)
Customer Support
During the weekdays, live chat is often available at the bottom of the tool platform where you can type in a question that soon a support member will give you a friendly advice. Depending on the time, and over the weekend this chat box will be replaced by "Leave us a message" box allowing you to send questions.
Wishpond Review Final Thoughts
Pro's
Friendly & Minimalistic interface
Plenty of video tutorials
Integration with hundreds of other apps
Con's
Pricey if you want to take advantage of all the features
Plenty of support is available, yet not easily accessible
Can be "too many" video tutorials and not enough written tutorials
Popup doesn't work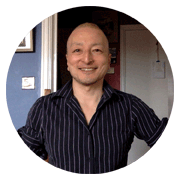 Wishpond gives you great landing pages and web forms in highly professional, slick and fully customisable designs. My small complaint is the instructions/support are not in the same place but here & there – some within a popup, some in video format, there's a knowledge-base and there are user guides elsewhere.
It is absolutely free up to 200 leads and perfectly ideal for beginner marketers. Sign up with Wishpond, give it a try and see what you think.
Raymundo