This is my ClixSense review. There are more than enough ClixSense scam/legit reviews out there, meaning it's easily accessible for anyone and easy to get started regardless to the quality of the scheme. ClixSense is a PTC (paid-to-click) website, where you earn money as you click on ads. PTC systems never really generate a healthy business cycle because;
Pay-per-click rates are most likely to be spectacularly low.
The advertisers hardly receive any benefits apart from the number of traffic that they earn (by you blindly clicking and closing)
But ClixSense also offers other ways to make money. I've tried a few modules so here it is.
PTC Adverts – Click and Get Paid
The quickest ad-click is "Sticky Ads" which says it takes 5 seconds, but it actually takes a lot longer by page loading + enter captcha + close window, takes about 30 seconds in total.

I just earned $0.001. Yay!
ClixSense uses a unit called ClixCent. 1 ClixCent is equivalent to $0.01, so it takes 100 ClixCents to make $1. The unit is displayed inconsistently therefore confusing sometimes.
There are "Regular Ads" require you to spend a bit longer time to complete. But you'll earn a bit more than $0.001.

Whopping $0.01! That's a ClixCent! It's one cent! I'm just gonna move on. See what others ways to make money on ClixSense.
Surveys
Like any other paid survey programs, this is not very good. There were 25 available surveys displayed on the screen. I've spent half an hour to receive a message "Sorry, this survey is not for you" one after another. Then another. Then another…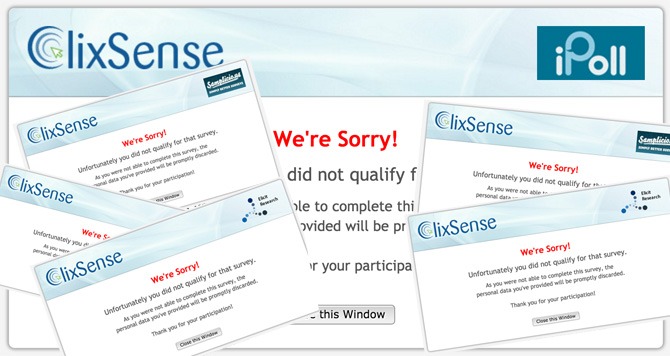 My friend who is a "survey expert" tells me that I'm disqualified because I'm married and have no children. As soon as you tell them your life is pretty normal, you're often rejected, you know what I mean?
What my friend does is he tells them he's divorced, disabled, has many children, recently been unfairly dismissed by his employer, had his house burgled and has been refused by insurance companies…anything unusual to get qualified to complete surveys. OMG of course that would be morally wrong and ClixSense warns you that you must tell them the truths.
So no. Not for me.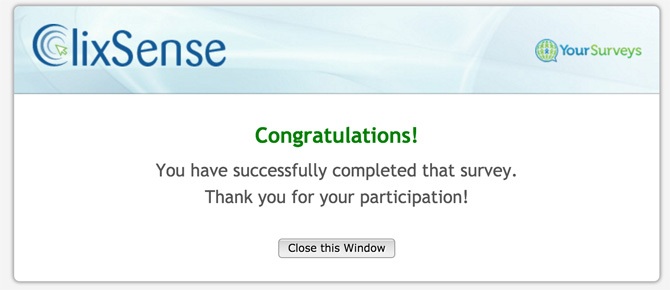 I did complete one survey though! So far I've earned $0.83. The next one is Persona.ly, another survey company.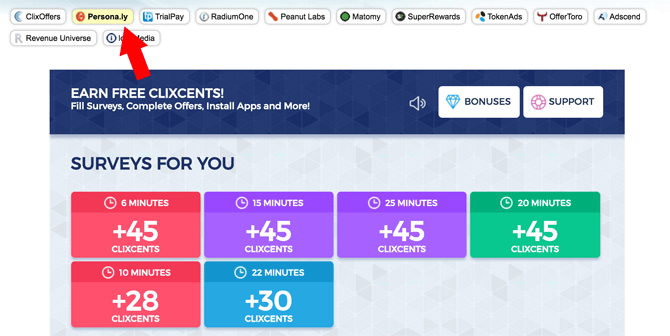 All these "minutes" are the actual time you may spend on clicking, but it involves testing. I answered another survey asking for the usability of three websites. The time taken was advertised as 6 minutes but it took me a good 1/2 hour to check the websites, find the specific pages that was required and to give my honest answer. Earned $0.40. OK let me scream here.
ClixSense Will Rot My Brain!
The third one is TrialPay, who offers you an instant 2,500 – 3,000 ClixCents ($25-$30) if you sign up with online casino and deposit €10 / £10 (around US$11-15). This sounds more promising. My readers know how I dislike gambling but today I decided to test it.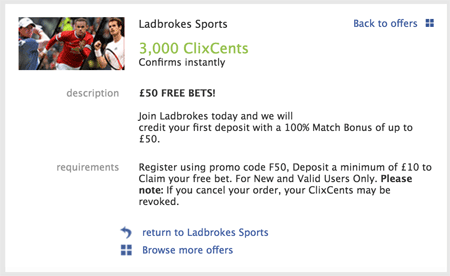 What was I thinking!? I decided to sign up with this betting shop, put £10 deposit in… Nothing. I didn't get 3,000 ClixCents. See it says "Confirms instantly" there, can you see that? No it doesn't!!!
I contacted the customer support, they came back fairly quickly but said I'd have to contact TrialPay directly. However TrialPay doesn't let me send a support ticket because I don't have an account with them.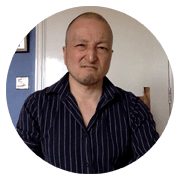 I emailed TrialPay, they responded after 3 hours and said I would need to prove my registration with this betting shop. I've sent a PDF of my account page and email confirmation from the shop. I haven't heard from them since. They're not getting away with that! I will get my 3,000 ClixCents and let you know.
*** UPDATE: the next day TrialPay replied and asked me to submit my credit card statement to prove my payment of £10, which I refused. I challenged and pointed out it was a breach of contract, since it advertised as "confirms instantly". Now 3,000 ClixCents ($30) is showing in my ClixSense as a pending transaction. ClixSense support says this will "stay pending for at least 45 days and up to 60 days. This is necessary to protect our account against chargebacks". So I won't be able to cash it in for up to 2 months!
**** July 15, 2016 UPDATE: I finally received my $30 at my Paypal account!
By the way, nothing to do with ClixSense but this "£50 Free Bets!" in the image is misleading too. It turned out that you'd have to bet on something with odds greater than 1/2. It's partly my fault not checking, but I feel like I've been conned by Ladbrokes.
Other Third Party Offers

Back to ClixSense. So I've tried the first three in the menu. Others are all third parties associated with ClixSense, and similarly offer small cashback if you either sign up with them, watch videos and answer more surveys, play games. Often you need to supply your email address to let them spam you before you can earn some 'cents.
There's "ClixGrid", offers you a chance to win $0.25 – $10.00. You click anywhere in the photo which opens a new tab for you to watch a full page add for 10 seconds. Then it tells you if you've won or not. You have 30 chances per day.
Premium Membership
You can reduce the cumbersomeness of all the clicking & waiting by paying $17 per year. And a little more advantages as shown below.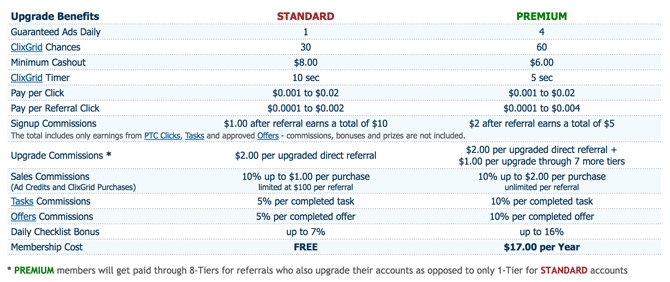 The minimum cashout rates are good, aren't they? $8 for a free member and $6 for a premium member. The greatest advantage for a premium member is actually in the referral program.
Referral Program
ClixSense's Referral program sounds much more "hopeful" than the website's main activity itself. And that's probably the primary reason that many write a review about the site.
If you are a standard (free) member and refer someone, you'll get paid on various actions made by your direct referral.
Signups – when your direct referral has earned $10, you'll receive $1.
Offers, surveys and tasks – you'll receive 5% on your direct referral's earnings.
Each time they purchase Ad Credits or ClixGrid links, you'll earn 10% commission – but the upper limit is $1 per purchase, $100 per referral.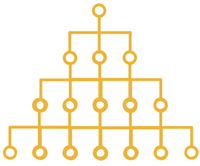 These rates are approximately double if you are a premium member.
The most beneficial element for a ClixSense premium member is its multi level of upgrade referral commission system. When your direct referrals upgrade, you'll be paid $2. And your referral's referral upgrades you'll be paid $1 and, subsequently $1 on each of anyone through 8 levels of referrals upon upgrade.
ClixSense Review – My Final Thoughts
Although I don't consider "clicking ads" as a way to earn regular income, if you consistently at it, you'll certainly make small amount of money. Also by promoting it aggressively there's a possibility to earn decent amount too. I find it quite soul-destroying, sorry. But you might like it.
Have a look at ClixSense site and see how you feel.
Nothing to do with ClixSense directly. So I don't like gambling and I wanted to get rid of this £10 I had deposited in the betting shop Ladbrokes. Thought I might as well place a bet randomly…won it and doubled it (!)
It was a football match between "Balestier Khalsa 3-0 New Radiant SC". I had no idea, what country or whatsoever. My winning was £9.09 and I immediately withdrew the total of £19.09 ($28). Lucky, wasn't I!? Congrats & thanks to the football club who won this afternoon!
The best is yet to come, but for my own part it's all gReat to me!