If you once know the basics of Amazon Associates program, your income stream will grow in time. There are many reasons why you should sign up with this giant retailer such as;
Amazon covers almost every product category
Sell at reasonable prices, often cheaper than competitors
Undoubtedly trustworthy.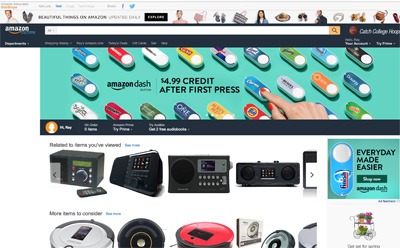 But the most practical advantage with Amazon Associates is that once someone logs on to Amazon site via a link in your website and buys something – anything – within 24 hours, you'll receive a % of commission, even if it's not the product you're promoting.
Related Post Updated: How To Make Money As Amazon Affiliate
Some affiliate marketers moan about Amazon's low commission rates (starting from 4% on its own products, up to 10% on Amazon Marketplace products). But imagine Black Friday in late November, followed by Christmas shopping period – people buy a lot of stuff. The product that promoted on your website may be a $10 book, but your visitor may end up making bigger purchase such as camera or computer equipment. You'll receive a commission on the total purchase price. Remember that's providing your visitor makes the purchase within 24 hours though.
Things You Need To Know
Firstly and obviously, you need to have your own website. If you don't have one – you can create one for absolutely free.
"Amazon Associates" is where your affiliate program is managed. But before you sign up with them, here's a few things you should bear in mind.
(1) Your website must not contain sexually explicit materials, violent materials, libellous, discriminatory, illegal, directed toward children under 13 years of age.
(2) Amazon is a trademark, so is its logo, so are MYHABIT and Kindle. For that reason, you mustn't name your site or site address using any of these words, such as buyamazon.org, or a variant or misspelling such as "Aammazon"
(3) This does not just apply to Amazon but all advertisers if you are US affiliate marketer. Federal Trade Commission (FTC) requires you to clearly disclose that your website is an affiliate site and may receive a commission from advertisers. I don't reside in the USA but my affiliate disclaimer can be found here.
(4) Due to the State sales tax law, Amazon cannot allow a resident of Arkansas, Louisiana, Main, Missouri, Rhode Island, or Vermont to participate in the affiliate program (as of today, April 3nd 2016). Other residents in the US or non-US citizens will need to sign a tax compliance form upon registration.
*** 2017 update: Amazon Associates no longer seem to disallow residents of any particular US states to participate in their affiliate program. Thanks to Diane, who has kindly pointed this out!
(3) and (4) sound like a lot to do but not that difficult and it won't take you long to prepare, don't be put off by them!
Amazon Associates Program
When you sign up with Amazon Associates, I would suggest that you use the same email address used for your Amazon shopping account (such as www.amazon.com). Because there's another reason why Amazon Associates is popular – it's the ease of linking. When you've become an Associates member, you go to a product page and there will be a link code already available at the top bar, which you can copy and paste onto your web page. Meaning you'll be logged in as a consumer as well as affiliate marketer.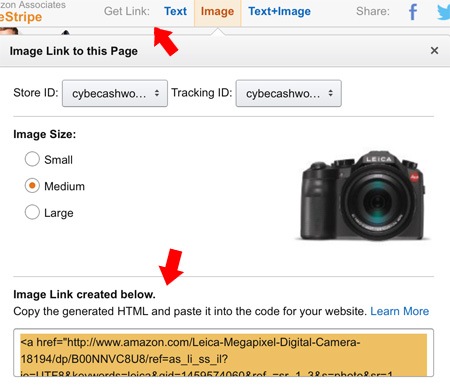 I'm from UK, and the UK Amazon site also provides link at the top bar link this.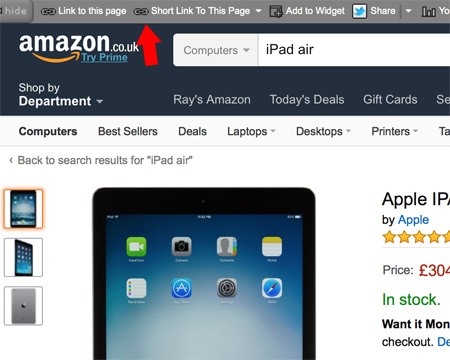 What your Associates' interface looks like depends on the individual Amazon site in your country, but it has several functions such as widgets and featured promotion links.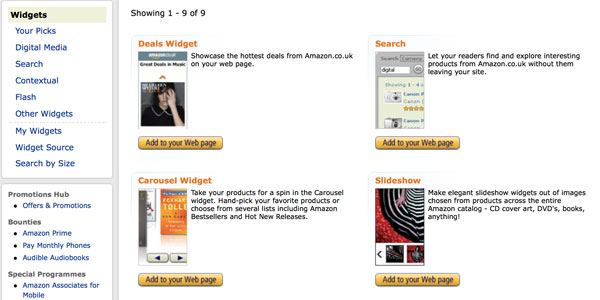 Tips For Promoting Products On Amazon
1. Start NOW
Yes, start right now if you haven't! It's a great platform for you to start affiliate marketing as you learn, because of Amazon's familiar interface. Unless you've never purchased anything from Amazon before.
2. Your Genuine Review Will Earn Trusts
Creating a product review page will be a great way to grab people who are almost ready to buy, and subsequently to redirect them to Amazon. You see, these people will find your site, looking to hear your honest, genuine opinion. So it's important that you pick reasonably priced products with good quality. Choose high quality products as well as higher quality products, and let the higher quality products win in your review! And keep doing that, you'll earn trusts from your visitors over time.
3. Don't Underestimate Small Items
4% commission on a book may be tiny but of course it will add up over time. You may pick up spontaneous shoppers who are browsing and $5-$10 a book is not a lot to spend. A $5 book selling 2,000 copies is better than a $100 product selling 10 copies.
Another thing is the number of copies you sell – as you can see from the table below, the more you sell per month, the % of commission you receive from Amazon will increase.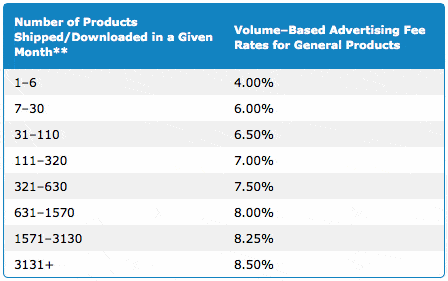 4. Expand Promotions With Related Products
While it's a great idea to focus on promoting a few high quality products, there are many other related items that your visitors may be interested in.
Amazon website itself is great to introduce "related products" where you can find other possibilities. For example if you're promoting men's shaving kits, there will be other grooming products such as moisturiser, face scrub, hair products from the same brand. Or books about shaving! It gives you ideas to make "by the way…" promotions within your page too.
5. Beware Of Sale / Seasonal Items
This can be a pain. It's great to promote products on sale. Sale items definitely draw attention from visitors, but their prices may quickly change – further % discount, or the sale to end. In case of a clearance sale, the item and its page will soon disappear. So you want to make it clear that the prices are for limited period only, and make sure that the links are not totally broken at later dates.
But as I've already mentioned above, towards the end of the year (Black Friday, Thanksgiving and Christmas sales) is the best chance to earn a lot of commissions. Seasonal items such as Christmas gift goods are too good to miss!
Any More Tips?
I hope this article will help anyone who's considering about joining Amazon Associates program. If you are already an Amazon Associates member reading this and have any other tips, I'd like to hear from you. Let me know!
Related Post Updated: How To Make Money As Amazon Affiliate