Woah, scary! SpyVisit is a powerful tool that allows you to spy on your site visitors' movements. There are quite a few website visitor monitoring tools around, but SpyVisit does its job extensively, and does it very well.
*** 2017 update: Sadly SpyVisit has ceased its service. All the links to SpyVisit have now been removed.
Not only does SpyVisit record your visitors' IP addresses and how long they spent on your website, but it actually video-records each and every visitor's movements the entire time. It lets you playback to watch them scrolling, mouse-hovering and clicking. Plus "heat maps" where you can check which areas most clicked, most looked at, and ignored (by how fast scrolled away) – each of them in the form of a map.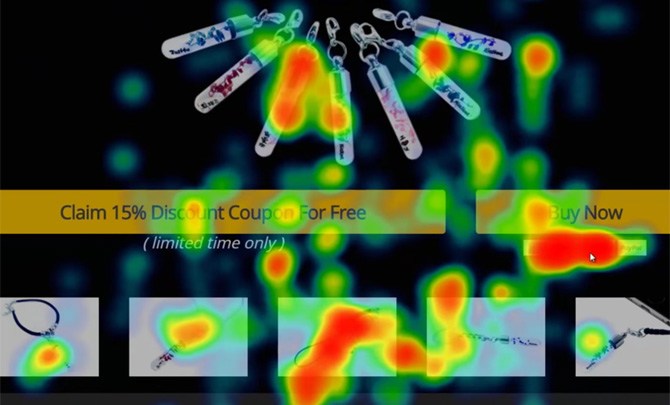 Why do you need this tool? Because the best way to improve click-through rates and conversions is to witness what your visitors do on your site by yourself. You need to know which areas appeal to the visitors' eyes, and how their attention is shifted from one area to another within the page.
SpyVisit Review
SpyVisit says its tool will increase sales, leads and click-through rate with LESS traffic. Well, it makes logical sense. A level of sales = Conversion Rate x Traffic, therefore it is possible. As I've already mentioned, the key features are;
Visitors movements recordings
Heat maps (clicks, eye-tracking and scroll)
Analysis of popular pages in your site
Signing up (7-days free trial) and setting up couldn't be easier and more straight-forward. Let's have a look.
Dashboard
Sign up with SpyVisit and you'll be provided with a comprehensive dashboard.
1. Name your first project – in this example I'm only testing it on one small website, therefore I'll just simply put my name for now.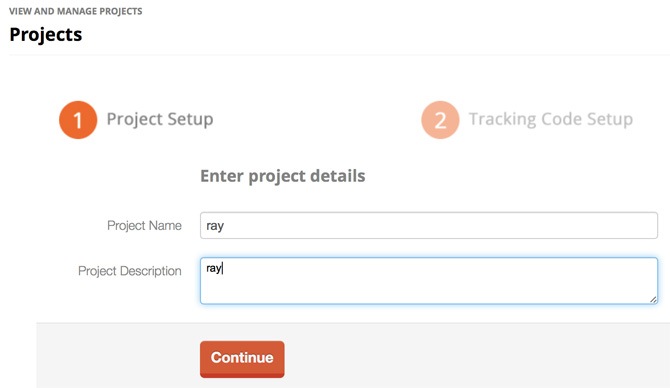 2. Then all you have to do is copy the javascript code (as appears below) and paste it to your site…

If you are a WordPress user, the instruction suggests that you install a plugin called "Insert Headers and Footers" That's one easy way to do, but you can also simply paste it in the Header section of your site;
Go to Appearance > Editor
Click "Theme Header" on the side menu
Paste the code within the <header></header> section.
Click Save.
That's it. I've left it for a couple of days to see what happens and now, here is the result – it is my "men's lifestyle" UK site by the way.
Heat Maps
In the Dashboard, click "Heat Maps" menu.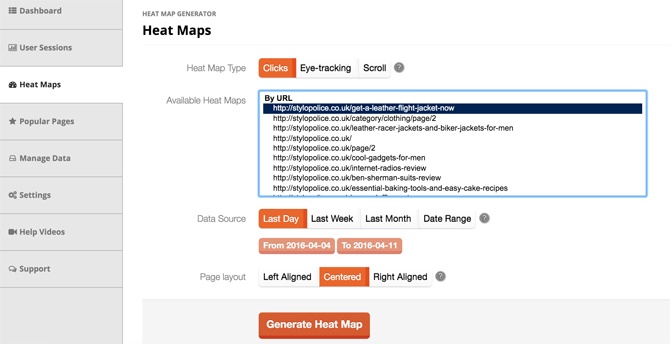 The pages that have been visited will be listed in the box. Let's check the "click-rates" first…choose the Heat Map Type "Clicks", highlight the page I want to view, set the date range and click "Generate Heat Map".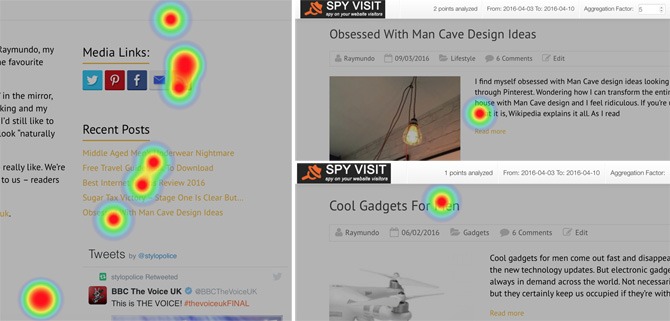 I've noticed that one of the images – an image of a drone – was particularly clicked by quite a few visitors. However the image wasn't linked anywhere. So this is great for me to learn that my visitors are specifically interested in the drone and, I should create a link so that they can view the further detail of the product.
"Eye-Tracking" is interesting. From the area where the mouse is placed, hovered and scrolled, it analyses which part of the page your visitors were paying attention to. While it may be a "guesswork", I think this is another great feature.

Below is a Scrolling analysis, rates are shown on the left-side by percentage. The top part should always be 100% and should go lower towards the bottom.
It means that 100% of your visitors has viewed these areas, and if you see 50% means only 50% of your visitors scroll until that portion. This also means that you should try to make your page 100% as far as possible.
And in other words, you should put those important information on those 100% or those better percentage area, so your visitors will notice them.
Great, isn't it!?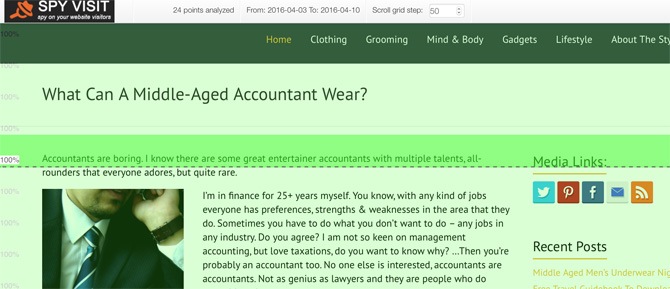 Recorded Sessions

This is where you can see each user's details (I've masked their IP addresses). By clicking the playback button on the left, you can see their every move;
Popular Pages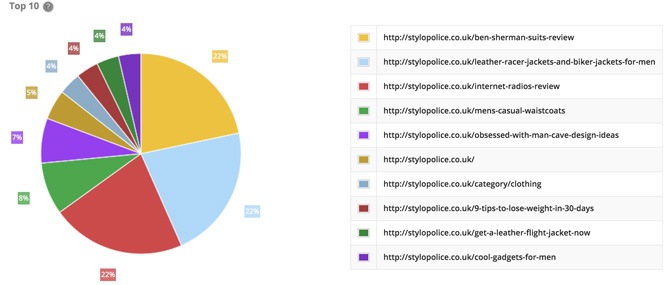 You can view your top 10 popular pages with a coloured pie charge like above, and also top 50 popular pages like below, both are based on the total viewing time.

You can view similar reports on Google Analytics, but the good thing about SpyVisit is that you don't have to set anything up apart from inserting its unique tracking code in your header section. These Top 10/50 pages will come up as people visit your page. And it's colour coded!
Price Plan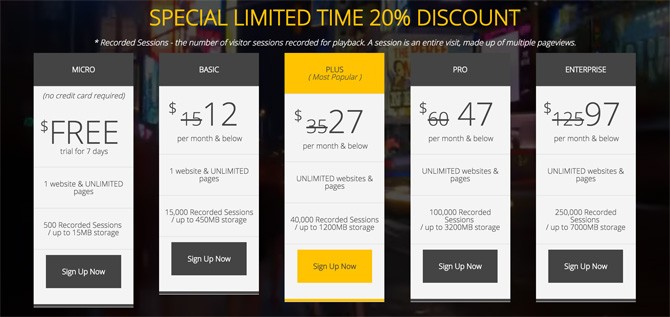 So there's 7-day Free trial with no credit card required.
With paid plans, there's a special 20% discount available right now. These prices shown are your monthly-payment options. If you pay yearly / 2 years / 3 years in advance, it will be even cheaper. Let's compare Basic Plan and the most popular Plus Plan;
Basic Plan: 1 website, unlimited pages, 15,000 recorded sessions or up to 450Mb storage;
Pay monthly – $12 per month
Pay 12 months in advance – $130 ($10.84 per month)
Pay 2 years in advance – $245 ($10.21 per month)
Pay 3 years in advance – $345 ($9.59 per month)
Plus Plan: Unlimited websites & pages, 40,000 recorded sessions or up to 1,200Mb storage;
Pay monthly – $27 per month
Pay 12 months in advance – $292 ($24.34 per month)
Pay 2 years in advance – $551 ($22.96 per month)
Pay 3 years in advance – $777 ($21.59 per month)
And as you can see from the image above, there are higher usage options (Pro up to 100,000 recorded sessions and Enterprise up to 250,000).
To recap, these plans include;
Visitor mouse movements recordings
Clicks heat maps
Eye-tracking heat maps
Scroll heat maps
Real-time reporting including most popular pages
Other visitor info (country, IP address, the time each visitor spent, and their device and browser info)
All major credit & debit cards including Visa, MasterCard and Amex as well as PayPal payments are accepted.
Money Back Guarantee
SpyVisit promises 30-days, 100% money back guarantee if you're not satisfied with its service.
Support Team
Support is great, you can either send an email to them directly, or there's a web inquiry form. I've sent my questions a couple of times (about the scrolling rates and the recording sessions) and immediately received an acknowledgement email with ticket number. Although it said it may take them up to 24 hours to get back, both times I received a very friendly & helpful reply within an hour.
Do I Recommend SpyVisit?
Yes. I'm glad I'm able to recommend SpyVisit to anyone who seeks to improve the conversion rate (who wouldn't!?)
During the tests I never encountered any problems, the dashboard was super-comprehensive and responsive. Support team was friendly and helpful.
It all depends on your budget but I personally think the Basic Plan of $12 per month is adequate, not a lot to pay. Give it a try, at least to sign up for a FREE trial.