Having been involved with website designing business for a long time, I often get asked this question – do you make money from blogging? I seem to surprise them when I say yes, as English is not my mother tongue. I'm not an essayist, far from it in fact, and the income I receive is not necessarily as a result of blogging. But today I'll write about how to blog and make money.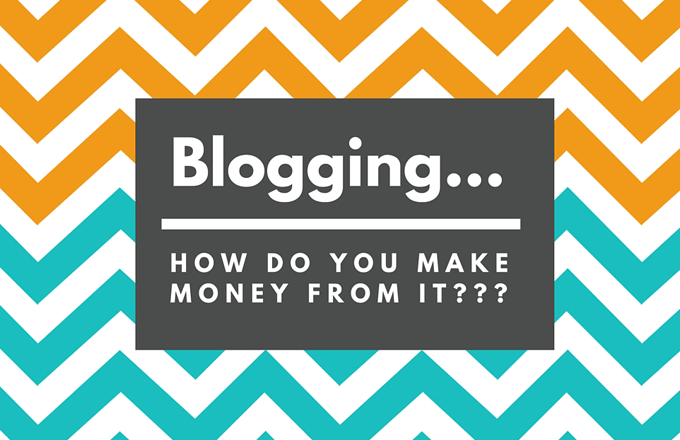 I'm happy and humbled if I encourage others who are interested in doing something online in any way. But I get hesitant when young ones tell me they don't know what they want to do for a living, and ask me how much money they can make from blogging realistically.
All I can say to them is that with any businesses, how much you can earn will depend on how much passion you can input. But what I really want to say is that, while you're not sure what you want to do for a living, you'll keep wondering and nothing will ever happen. Possibly for the rest of your life.
So if you think you want to start blogging, this may sound cliché but you just have to "go for it" "grab any chances" at some point in life. And this will sound even more patronising I know, but every blog beginner makes a lot of mistakes, every blogger experiences a failure at many points and learns from it.
I don't see myself as a professional blogger (I'm an accountant!) but here are some tips from me for how to blog and make money.
5 Tips On How To Blog and Make Money
#1 Take A Lot Of Risks
It is important to learn about SEO (search engine optimisation), web trafficking, social media output and all the rules but these are the things you'll gradually take in and digest over time. They can be confusing too.
So this doesn't mean you need to learn first before you get anything started. Online marketing strategies change with the times and we all constantly need to be branching out. So you should dive straight in, start blogging and keep going while learning.
It is the best chance to experiment and take risks in the beginning because you won't have as many readers or followers at the early stage. You'll have very little to lose.
It will be a good start to try as many new products and write reviews. Experiment or install free software that you think are useful for your website. And write freely, express yourself as honestly as possible in your article.
Write freely – I'm not saying anything unethical, violence or anything stupid obviously (in case you're wondering!)
#2 Keep Your Audience Interested
Having said that, your blog is not a diary. You will need to connect with your audience and keep them interested. This is a hard bit for some (including myself!) You want to be;
Honest and be true to yourself. It's actually hard to fool the readers by trying to be someone else. They'll see you through, and therefore you shouldn't.
You need to show certain level of seriousness to gain a trust.
But don't be too serious – that would be boring!
Never cast a "negative shadow all over" your post. If you think a product you're reviewing is a crap, you should say so (be honest), but always make sure that you're proud of what you've just written. That's a positiveness, isn't it?
You may feel proud of the article you've written, but that may mean nothing to others. Will that be interesting enough? Try to read it back and think if the story would be attractive in an audience's eyes.




#3 Decide Who Your Followers Are, and Understand Them
You can't please everyone, you know. Zane Malik fans truly believe Zane's music and lyrics, but I don't think many of them are interested in age-related illnesses or the possibility of aspirin lowering the risk of heart attack (!) By deciding what you want to write about, you'll decide what sort of products you may be selling, and that will decide your target audience and followers.
And that will naturally give you an opportunity to discover yourself, too. You'll understand your strengths and weaknesses, it will widen your horizon, then your audience will be interested in you more!
#4 Think about ROI (Return On Investments)
Spend money wisely. You will need to use several tools to get your blogging going. You'll have to pay for some services such as an email marketing  providers, advertisements, and some other useful software at some point in the future.
But while you're not making money, you need to consider whether the fee you're paying is an investment or not. Meaning by paying now, whether you'll receive a monetary benefit in return later on.
For example blog builders such as WordPress and Wix are free to use but they also have premium (paid) templates that you can buy. Would you need a paid service right now? If a premium template gave you better possibilities in many counts, it would be worth paying for…..or would it? Really? Would you really think a paid template would bring you more money than a free template? You want to be careful in such cases.
#5 Get A Pen and Paper!
As an accountant I'm used to my "paperless" working life. Switch between spreadsheet, email and calendar on the screen, and all my memos are typed in, all in one laptop. I think this is achievable because of the nature of work; the major part is number-oriented, and the workflow is pretty systematic.
Whereas with blogging, you get new ideas all the time – or your blog requires you to constantly be creative, from one subject to a completely different subject. So I carry a pen and a notebook myself – I've tried a smartphone to make notes but found it cumbersome, found it much easier to scribble on paper. That's up to you but definitely it's worth taking notes rather than to keep a lot of different ideas in your head.
How To Blog and Make Money – Start From Here
Try Wealthy Affiliate – you can open up to two websites for absolutely FREE, and you'll receive the first set of 10 trainings in how to monetise your blog for absolutely FREE too.
Since 2005, over 530,000 members have signed up with Wealthy Affiliate. Because it's trustworthy. No credit card required, 100% secure and no spam environment. So take a sneak look at least. I'll be there and, if you sign up, I'll personally give you a help too!